Torrence Banks' Top 10 Albums of the Decade
Torrence Banks, News Editor
1.) good kid, m.A.A.d city (Deluxe) by Kendrick Lamar (2012)
Conceptually, this is one of the most creative albums that I have heard in my lifetime. GKMC is an autobiography of Kendrick Lamar's life. Listeners are taken from Lamar's struggle to stay out of trouble with the law in the streets of Compton, "The Art of Peer Pressure," to a celebration of his hometown due to his success, "Compton" featuring Dr. Dre. With production from Sounwave, Hit-boy and Terrace Martin, GKMC shows the diversity of its sound, as these producers take inspiration from both jazz and r&b. 
Cosign: Jair Hilburn
2.) Man On the Moon, Vol II: The Legend of Mr. Rager by Kid Cudi (2010)
As Kid Cudi's first Man On the Moon album describes his dreams, Man On the Moon II paints a much darker picture that describes Cudi's reality. Cudi dives into topics like depression, substance abuse, suicidal thoughts and fame. His commitment to this dark narrative along with his somber yet emphatic delivery throughout this entire project makes this album a must listen. Sonically, this album combines hip-hop with rock, electronic and pop music. Standout tracks include "Maniac" featuring Cage and St. Vincent and "Ashin' Kusher."
3.) Awaken, My Love by Childish Gambino (2016)
If there was ever an album in which the month that the album was released describes its sound, Childish Gambino's (Donald Glover) Awaken, My Love would be it. The piano chords and the gentle xylophone used in both "Redbone" and "Terrified" create a cold, wintery feeling that is connected with the month of December. Doubters of Glover's vocal ability are silenced, as he pushes his voice to chilling ranges that even a Gambino fan like myself was not sure that he could do. This album is not only the best one that Glover has released, but it is one of the best r&b albums to be released in this decade.
Cosign: Jair Hilburn, Kennedy London
4.) Reflections in Real Time by Kilo Kish (2016)
This album means a lot to me, as it was one of the first that I saw performed live at a concert. Kilo Kish's debut studio album is an introspective project that discusses fame, self-esteem and human existence. The lyrics sound like they are coming directly from Kish's diary, as she puts her fears, desires, and frustrations on display for listeners to hear. Donald Glover speaks in the background on "Distractions II: The Dilemma of Cool" and he converses directly with Kish on "Existential Crisis Hour!" This is an alternative album that uses experimental production and mixes in trap production occasionally along with other unique sounds. Overall, this project conveys to listeners that it takes time for a person to fully know themselves.
5.) The Healing Component by Mick Jenkins (2016)
In September of 2016, Chicago MC Mick Jenkins released one of hip-hop's most important albums of the decade. The message of his first studio album was straight forward — love. On house and r&b production, Jenkins discusses the importance of loving oneself and others. By doing so, he breaks down this hyper-masculine barrier that exists in much of hip-hop music today. Through his smooth singing and concrete bars, Jenkins shows that he is the perfect artist to deliver this message. My standout tracks from this project include "Angles" featuring Noname and Xavier Omar and "Drowning" featuring BadBadNotGood.
6.) Rodeo (Expanded Edition) by Travis Scott (2015)
Travis Scott's 2015 debut album showed that he is far more than just another trap artists. Producers Mike Dean, Zaytoven, Metro Boomin, WondaGurl, Pharrell Williams and Scott himself create a futuristic hip-hop sound that cannot be replicated. The list of features on this project is impressive and includes Future, ScHoolboy Q, Quavo, Kanye West, Young Thug and more. The huge number of guests on this album do not take the spotlight away from Scott, as his distorted vocals on every track creates a unique texture that makes his delivery unmatched. This album laid the blueprint for Scott's future projects, including his 2018 Grammy nominated album ASTROWORLD.
Co-sign: Kennedy London
7.) Control System by Ab-Soul (2012)
Before labelmate Kendrick Lamar took hip-hop by storm with GKMC, Ab-Soul released his second studio album, Control System, in May of the same year. Where Lamar is remembered for his ability to change his flow and delivery with ease in a single track, Ab-Soul's ability to create unique metaphors and clever rhymes make his bars standout from his contemporaries. He discusses the systems that control a person's life and attacks societal norms on "Double Standards" featuring Anna Wise and "Terrorist Threats," featuring Danny Brown and Jhene' Aiko. Listeners get the chance to see the many sides of Soul's personality. 
Co-sign: Kennedy London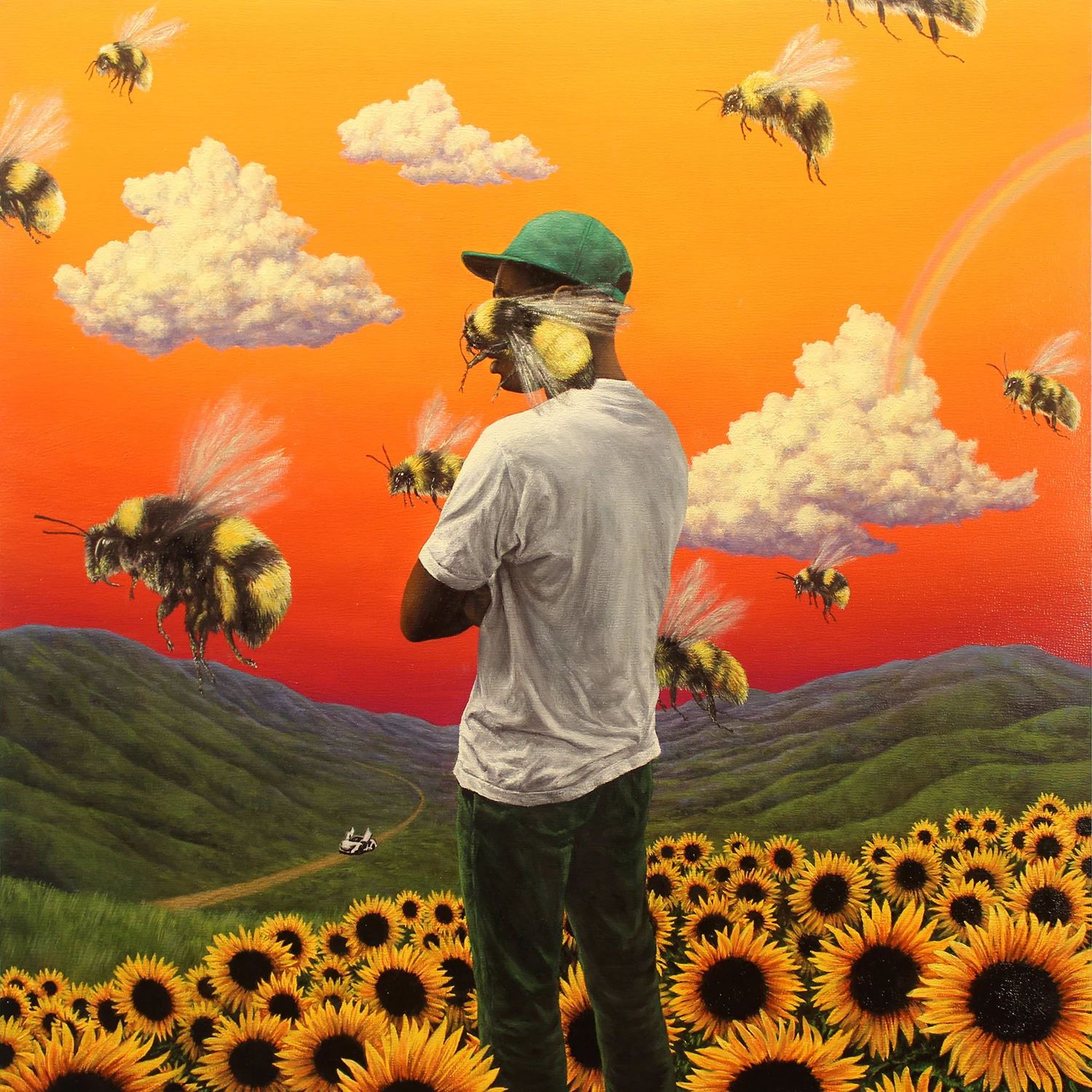 8.) Flower Boy by Tyler the Creator (2017)
With Flower Boy, Tyler the Creator brings a breath of fresh air to hip-hop music with the project's production and lyrics. The production on this album is impressive, as it sounds like Tyler hired a live orchestra for the instrumentation on many of the songs on this project. This adds to the overall "open garden" feeling that this project creates. In his lyrics, Tyler makes multiple references about himself coming out about his sexuality. He conveys to listeners that they should embrace being themselves and that they should not be afraid to bloom in fear of losing others along their journey. 
Cosign: Jair Hilburn
9.) The Incredible True Story by Logic (2015)
Logic's second studio album is set in the future, after the planet earth has been destroyed. The narrators of this album, Thomas and Kai, are travelers who are looking for a distant planet named Paradise. While traveling, they put on Logic's second album. This was one of the few hip-hop albums where I can listen to every song on the project and not have to skip a single track. Logic did a great job not only spitting verses with speedy flows, but also gracefully singing hooks and verses for his songs: "Never Been" and "City of Stars." Logic challenged himself with this project, rapping on jazz, electronic, and boom-bap beats. 
10.) XSCAPE (Deluxe) by Michael Jackson (2014)
In this package of previously unreleased Michael Jackson music, producers Timbaland, L.A. Reid, Rodney Jerkins and John McCain did a great job updating Jackson's sound. The production on this project makes it seem like Jackson is still alive and that he has not missed a beat. His performances on each track of this album are strong, as his voice sounds just as powerful as it did when Jackson was living. Each track is well written, as all of them can be replayed multiple times without exhaustion. My highlights from this album include "A Place with No Name" and "Blue Gangsta."